McHAL Enterprises Inc. Official Online Store
We provide OG style DOT helmets for motorcyclists who are chasing their own unique style.
Once you try our slim, low profile helmet, you won't want any other.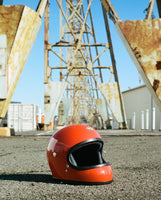 Revival of McHAL HELMETS
Before Bell, in 1955, and Simpson, in 1974, began making helmets, Hal Minyard and his friend Johnny McMurray made history in 1952 when they invented the McHal helmet.
In those days, most of the fatal injuries in motor racing were temple- and basilar skull-related. "The Hats" the drivers wore were made of plastic and looked like the bowl used to give Prince Valiant haircuts.
"I wanted to make one just for myself, something that would come down around the side of the head and low across the back of the head. When I wore it for the first time at a midget race at Phoenix, everyone wanted one.
"It was the first full coverage helmet."
© THE BALTIMORE SUN
McHAL Enterprises Inc.
7289 Murdy Circle Huntington Beach, California 92647
Our store
Please let us know before your visit
Mon - Fri, 8:30am-4:30pm
Saturday Contact us
Sunday Contact us